Aug 8th
2021
By Carlson

SpongeBob Musical Auditions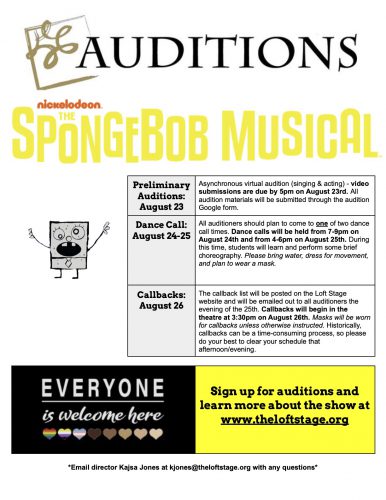 Auditions for our fall musical, SpongeBob, are quickly approaching. Preliminary auditions will be conducted both virtually and in-person.
For the virtual audition, students will:
prepare a short acting side (either Mayor or Squidward monologues)
sing 60 seconds of a song of their choosing (in the style of the show) 

or

 the selected cutting of the "SpongeBob SquarePants Theme  Song"
For the in-person audition, students will: 
 come to one of two dance call times. Dance calls will be held from 7-9pm on August 24th and from 4-6pm on August 25th. During this time, students will learn and perform some brief choreography. Please bring water, dress for movement, and plan to wear a mask.
All the necessary auditions materials can be found HERE.
All preliminary auditions must be submitted by Monday, August 23rd at 5pm. After that deadline, the submission window will close, so the production team can review auditions and begin preparing for callbacks. The callback list and details will be posted on the Loft Stage website by Wednesday evening.
Students will use the following Google form to submit their audition: Audition Form
* The audition form will not work using your school account. Please use this form only if you DO NOT have an alternate Google account: Alternate Audition Form
Callbacks will be held in-person on Thursday, August 25th. A virtual option will be made available for students who indicate that preference on their audition form. If your name isn't on the callback list, there is a definite chance you will still make the cast list. The final cast list will be posted the evening of callbacks.
There will be a brief, virtual informational session at 4pm on Wednesday, August 18th where we will review all audition information and answer any questions students may have about the process. A recording of the meeting will be posted later, so if you are unable to attend, feel free to watch the view to see what was discussed.
Join Zoom Meeting
https://zoom.us/j/92398891985?pwd=WlIrR2pvbUFBS1ZoUE9mMDJ3UVRTQT09
Meeting ID: 923 9889 1985
Passcode: m4VyuP