Nov 19th
2018
One Act Auditions
By Carlson

The Loft Stage will hold auditions for our winter one act play, She Kills Monsters, next week!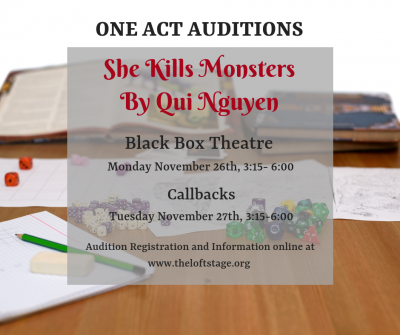 Show Synopsis: After the sudden death of her younger sister Tilly, Agnes finds a notebook belonging to her dead sister that has a module written for the game Dungeons and Dragons. Agnes decides to team up with Tilly's old party members and play through the game in the hopes of finding who her sister was.
Prior to auditions, students should fill out the following Google form: https://protect-us.mimecast.com/s/A9PzCmZ0BrI5mJNyfGEc1Z?domain=docs.google.com 
Audition sides will be released soon.