May 13th
2021
Grease: A Note from the Artistic Director
By Carlson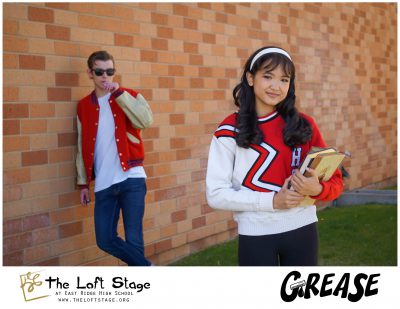 Grease is hands down one of the most popular musicals to ever exist; in fact in the process of making the show we learned that it is, in fact, the most-produced musical in the world. A lot of this can probably be credited to the iconic movie and the rest to the relentlessly-catchy music. Even if you're not a regular theater goer, you've probably heard a slightly off-key but enthusiastic "Summer Nights" at karaoke or watched your third cousin pull a muscle dancing to "Greased Lightning" at a wedding.
Despite its popularity and formative role in my own childhood, I had my doubts about selecting Grease as our musical. At first glance, I didn't love the "change yourself for a man" moral that has received (fair) criticism across the internet in the past 10 years. However, after a bit more digging and some discovery about the original show (did you know it was a musical before it was a movie?!) I started to see Grease in a different light. To be clear, I still don't think you should change yourself for a man, or for anyone for that matter, but at its core, this quintessentially teenage show is about so much more. 
Grease is a story about being true to who you are. I think it's easy to see Sandy as a stereotypical All-American, 1950s teenager corrupted by Danny, Rizzo and the gang. But with a slightly closer look at the cultural and societal norms of 1959, it's clear that when we meet Sandy she is a product of these external forces. Between prescribed gender roles, age discrimination, and culture war, Sandy enters into adulthood with a narrative that's already been written for her. The Greasers don't require her to change: they give her permission to be who she is, something that's still not easy to do, 60 years later. 
This crew of misfits, rough around the edges but loyal to the core reminds us that growing up is messy. They're imperfect but we love them for it. And Grease is like that too. There certainly are moments in the show that don't align with our current social values; however, not everything we put onstage is meant to be a model for behavior. Instead, it gives us an opportunity to look at our past with clear eyes and see it for what it was — the good, the bad, and the in between. 
This process has been an adventure in every way, but well worth it to be making theater again. It's been so long since we've all been able to gather and we are so glad to see you under the stars for a "Summer Night" you'll surely remember.
–Kajsa Jones, artistic director