Mar 5th
2021
By Carlson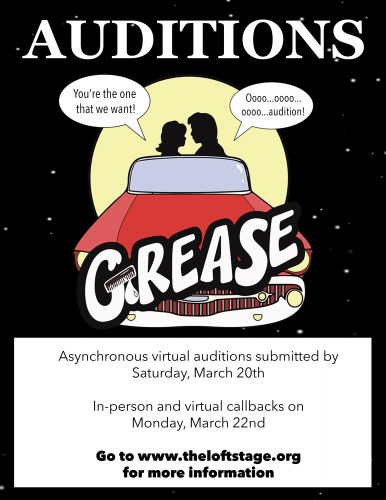 Auditions for our spring musical, Grease, are quickly approaching. All preliminary auditions will be conducted virtually and asynchronously.
In the form, students will be asked to provide and prepare the following:
Student and parent contact information
List of potential scheduling conflicts
Agreement and compliance with both equity and health & safety standards
Videos of audition performance
For the audition, students will:
prepare a short acting side (either Eugene 

or

 Frenchy monologue – linked HERE)
sing 60 seconds of a song of their choosing (in the style of the show)

or

the selected cutting of "We Go Together" (sheet music and rehearsal/performance audio tracks linked HERE)
perform the prescribed dance choreography (linked HERE)
All preliminary auditions must be submitted by Saturday, March 20th at 5pm. After that deadline, the submission window will close, so the production team can review auditions and begin preparing for callbacks. The callback list and details will be posted on the Loft Stage website by Sunday evening.
Students will use the following Google form to submit their audition: Audition Form
* The audition form will not work using your school account. Please use this form only if you DO NOT have an alternate Google account: Alternate Audition Form.
Callbacks will be held in-person on Monday, March 22nd. A virtual option will be made available for students who indicate that preference on their audition form. Due to COVID restrictions, we can only callback a small group of students, so if your name isn't on the callback list, there is a definite chance you will still make the cast list. The final cast list will be posted the evening of callbacks.