Feb 27th
2018
By Carlson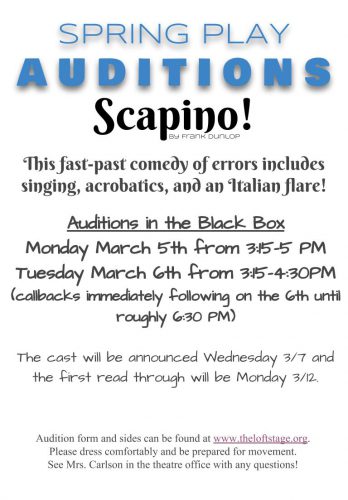 Auditions for the spring play, Scapino! by Frank Dunlop, are Monday and Tuesday, March 5-6th in the Black Box Theatre. This fast-past comedy of errors includes singing, acrobatics, and an Italian flare!
The audition schedule is as follows:
Monday from 3:15-5PM
Tuesday from 3:15-4:30PM – callbacks immediately following until roughly 6:30PM
The cast will be announced Wednesday 3/7 and the first read through will be Monday 3/12.
Please dress comfortably and be prepared for movement. See Mrs. Carlson in the theatre office with any questions!
AUDITION FORM – print and bring with to audition:  https://docs.google.com/document/d/1ucuxZTh1vAfSX-9I7pJVDiBOC96H0YvohwRKznUKMzE/edit?usp=sharing
AUDITION SIDES – hard copies will be provided at auditions, no memorization necessary! https://drive.google.com/drive/folders/15ukkdPIi6cZxzTJEXr2DFYxU1HGpELlk?usp=sharing