May 19th
2023
By Carlson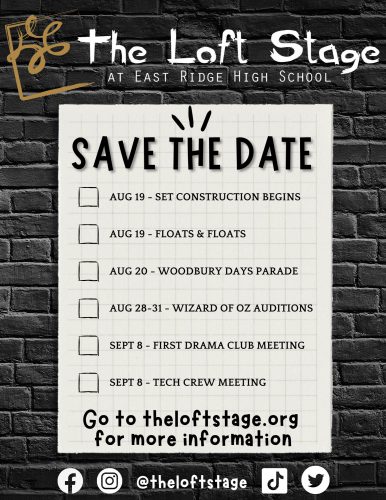 – Set Construction –
All are welcome and encouraged to lend a hand in the scene & costume shops. Refer the Loft Stage calendar to shop days/hours. Parents, guardians, and students are all welcome to drop in for as little or as long as they are able! We ask that folks wear closed-toe shoes, paint clothes, and tie back loose hair for safety purposes. No experience required.
– Floats & Floats –
All are welcome to join us for ice cream floats as we build our float for the upcoming Woodbury Days parade. Floats & Floats begins at 9am and concludes at noon. Wear work clothes – come for the whole time or whenever you're free. This a great chance for incoming Lofties to meet staff and students.
– Woodbury Days Parade –
The Woodbury Days parade is Sunday, August 20th. We'll meet outside the scene shop the morning of the parade. We will carpool over to the parade lineup and will march in the parade as a way to encourage the community to come see and support our season.
– Wizard of Oz Auditions –
Auditions for our fall musical, The Wizard of Oz, will take place August 28-31st. More details to come!
– Drama Club (LoftPAC) –
LofPAC, or the Loft Performing Arts Community, is East Ridge High School's drama club. All are welcome! We traditionally meet the first Friday of every month right after school in the theatre. LoftPAC attends theatre workshops, sees plays & musicals, plans social gatherings, and more! Our first LoftPAC meeting is Friday, September 8th.
– Tech Crew Meeting –
Interested in working on tech crew? Join us for an informational session and to learn about the many technical theatre opportunities there are here at East Ridge. Lighting, sound, set construction, scenic painting, costume crew, video crew, and more! The tech crew meeting will take place immediately following the LoftPAC (drama club) meeting (9/8) in the choir room.
Stay connected!
Keep an eye on our website for updates. Students are also highly encouraged to join the LoftPAC Remind, by texting @loftpac to 81010. Also, consider following us on social media (Facebook, Instagram, Twitter, TikTok). Families are also highly encouraged to signup for our monthly newsletter.