Jul 15th
2022
By Carlson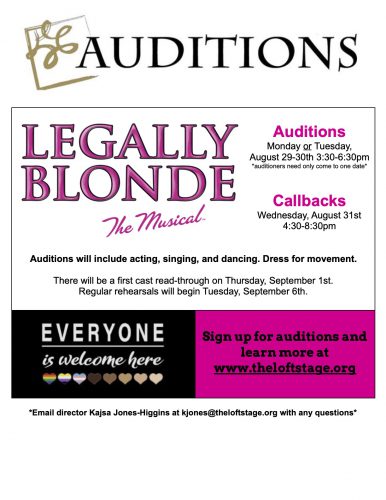 "Harvard's beloved blonde takes the stage by pink storm in this fun, upbeat story of self-discovery. A fabulously fun award-winning musical based on the adored movie, Legally Blonde The Musical, follows the transformation of Elle Woods as she tackles stereotypes and scandal in pursuit of her dreams. Action-packed and exploding with memorable songs and dynamic dances – this musical is so much fun, it should be illegal!
Elle Woods appears to have it all. Her life is turned upside down when her boyfriend Warner dumps her so he can attend Harvard Law. Determined to get him back, Elle ingeniously charms her way into the prestigious law school. While there, she struggles with peers, professors and her ex. With the support of some new friends, though, Elle quickly realizes her potential and sets out to prove herself to the world.
Legally Blonde The Musical is perfect for high school and community theatre, featuring a large ensemble and several big song-and-dance numbers." (Music Theatre International)
Please note: All ethnicities and genders are welcome to audition with particular encouragement to Black, Indigenous, AAPI, People of Color and Trans artists.The Loft Stage employs color-conscious and gender imaginative casting for all roles, as culturally appropriate to the telling of the story. Even if you do not see yourself directly reflected in the roles/shows, please feel welcome to submit your audition.
Any role can be played by a person of any gender. Some characters may be male or female presenting, but the performer cast can be any gender.
A full list of characters can be found HERE. These are only the principal and supporting roles. There is a large ensemble of characters in addition to those listed.
Students will use the following Google form to register for auditions: Audition Form
* The audition form will not work using your school account. Please use this form only if you DO NOT have an alternate Google account: Alternate Audition Form
Important dates:  There should be NO CONFLICTS after MEA. Tech is November 5-10. Performances are November 11-13 and 18-20.
If you have any questions about the show or the rehearsal process, please reach out to director Kajsa Jones-Higgins (kjones@theloftstage.org) or assistant director Katie Carlson (kcarlson1@sowashco.org).