Jan 7th
2020
By Carlson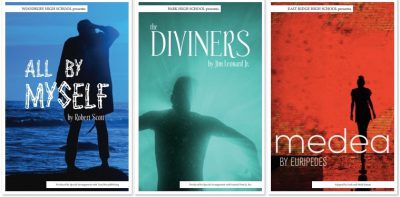 You're invited to the 2020 District One Act Play Festival for the three high schools in the South Washington County School District at Woodbury High School. East Ridge, Park, and Woodbury will each perform their one act plays that they are taking to the Minnesota State High School League one act competition!  Come out and support District 833!
Tickets are General Admission, $5 each (available at the door only).
The Loft Stage @ East Ridge HS presents an original adaptation of Euripides' "Medea" by Leah and Mark Jensen | The history is that Medea saved her future husband while destroying her own family. Now, married to Jason, she finds that he has betrayed her love and abandoned their children. In a desperate and powerful act, she kills her own sons.
Woodbury High School Royal Theatre presents "All By Myself" by Robert Scott | A one act comedy; seven years alone on an island after his shipwreck have driven Larry to the edge of sanity, but that's nothing compared to the shock of discovering he's not – and never has been – alone!
PHS Theater presents "The Diviners" by Jim Leonard, Jr. | A gifted young man, a conflicted preacher, and the divine destiny that changes their lives forever.
See you at Woodbury HS in the Royal Auditorium on January 17!