Sep 3rd
2017
By Carlson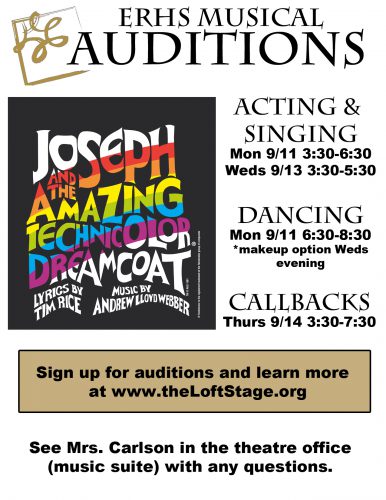 Auditions for this year's fall musical, Joseph and the Amazing Technicolor Dreamcoat, are Monday (9/11) from 3:30-6:30 and Wednesday (9/13) from 3:30-5:30. Performers may prepare thirty-two bars of music or learn a song provided at auditions. Those preparing a song should bring a digital track with which to sing; accompaniment will NOT be provided. Keep in mind the vocal style and range of the show.
Dance auditions will be Monday (9/11) from 6:30-8:30. Please bring water and dress for movement. Students will learn and perform a brief dance during this time. If, for some reason, a student is unable to make Monday night's dance audition, the make-up session will be Wednesday evening. See Kajsa Jones or Mrs. Carlson if a make-up session is needed.
Please fill out the following google form to sign up for an audition day and to provide contact information, performance experience, and scheduling conflicts:
https://goo.gl/forms/s04dePgO46D4NmJu1
Callbacks will be Thursday (9/14) from 3:30-7:30.