Nov 4th
2013
By Cindy

Yes, you heard right, Aida is phenomenal.  This show has everything:  Music by Elton John!  Forbidden Romance!  Intrigue!  Betrayal!  Spears!  It's another Loft Stage triumph, so let's celebrate together.  Have fun as you support ERHS students and the cutting-edge theater happening on this side of the Mississippi by joining us for
AIDA'S SUPERSPECTACULAR OPENING NIGHT GALA AND SILENT AUCTION
The Gala offers Egyptian boatloads of fun, as evidenced by:
A dazzlingly transformed party space, with an honest to goodness, super-swank, Oscar-worthy red carpet
Catering by Green Mill, complete with a coupon to Green Mill WORTH THE PRICE OF ADMISSION (!)
Entertainment by Tropical Ballroom–break out the Bangles, cuz you're gonna learn to Walk Like an Egyptian
Delectable hand-decorated cookies
Photos by Jeanne Berget—get your holiday pictures taken care of right here–how convenient!
But wait, there's more!  Don't forget the legendary SILENT AUCTION.  It's easy, just follow these simple steps:  1. Sign up for a bidding number when you arrive.  2. Check out the loot.  3. Bid on or purchase the loot you like.  4. Check your bids and bid some more during intermission.  5. After the show, pay for your loot.  6.  Smile, you did  good thing helping out ERHS theater.  There are over 60 fantastic items and one-of-a-kind gifts, including but not restricted to:
Minnesota Wild stuff, including a signed Zach Parise poster, and Nov. 15th game tickets
A gorgeous hand-painted Aida-themed display plate (see below!)
Two full-sized wooden spears, artisan crafted for the staging of Aida
A student sledding party at the Reimann's
A Davanni's in-home pizza party for 12
A keepsake photo book on the making of Aida at East Ridge High School for pre-order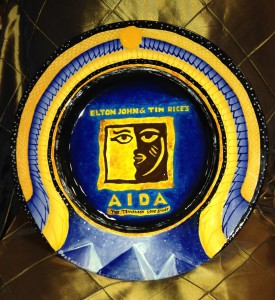 WHAT ARE YOU WAITING FOR?  GET YOUR GALA TICKETS NOW!